Luxury Airport Transfer London
BTC Luxury Airport Transfer London provides the highest quality transportation services to and from airports and all major commercial and private jet centers in South East England. We provide reliable transportation to all of the major commercial and private jet terminals. Our safe, reliable, and trustworthy chauffeurs will always be there to meet you and make sure your journey is as comfortable as possible in our luxury vehicles. We pride ourselves on providing our clients with the best possible experience, so you can rest assured that your needs will always be taken care of.
Here is what you should expect from Black-Tie Chauffeur
Luxury Airport Transfer London By BlackTie Chauffeur
Luxury airport transfer offer unparalleled convenience, allowing you to skip the hassle of navigating public transportation or searching for a taxi. With a chauffeur waiting for you upon your arrival, you can relax and unwind after a long flight. Your chauffeur will assist you with your luggage, ensuring a smooth and seamless transition from the airport to your destination. Whether you're travelling alone or with a group, luxury airport transfer in London provide a hassle-free and time-saving solution.
Arriving or departing in a luxurious vehicle adds an element of sophistication to your travel experience. Imagine stepping into a sleek and elegant car, where plush leather seats, ample legroom, and climate control create a haven of comfort. Luxury airport transfers offer a range of high-end vehicles, including luxury sedans, SUVs, and even limousines, ensuring that you travel in utmost comfort and style. These vehicles are meticulously maintained, guaranteeing a smooth and enjoyable ride to or from the airport.
Your safety is of paramount importance when it comes to luxury airport transfer in London, and luxury chauffeur services prioritize your well-being. The chauffeurs are highly skilled and familiar with the city's roads, guaranteeing a safe and smooth ride. Additionally, the vehicles are equipped with advanced safety features, providing an added layer of security. With a professional chauffeur behind the wheel, you can relax and enjoy the journey, knowing that you're in capable hands. By opting for our airport meet and greet service, you can enjoy a seamless travel experience and start your journey or business trip on a positive note. Our professional chauffeurs understand the importance of making a great first impression and will go above and beyond to ensure your comfort and satisfaction.
Arrive In Style With Our Airport Transfers in London
When it comes to luxury airport transfer in London, hiring a airport chauffeur service is the epitome of convenience, comfort, and style. With a dedicated chauffeur and a range of luxurious vehicles at your disposal, you can arrive at or depart from Heathrow, Gatwick, Luton, London City, or Stansted airports in the most seamless and elegant manner. The impeccable service, professionalism, and attention to detail ensure a memorable travel experience from start to finish. So, simply relax, and let our luxury airport transfer service in London take care of your chauffeuring needs while you focus on enjoying your journey.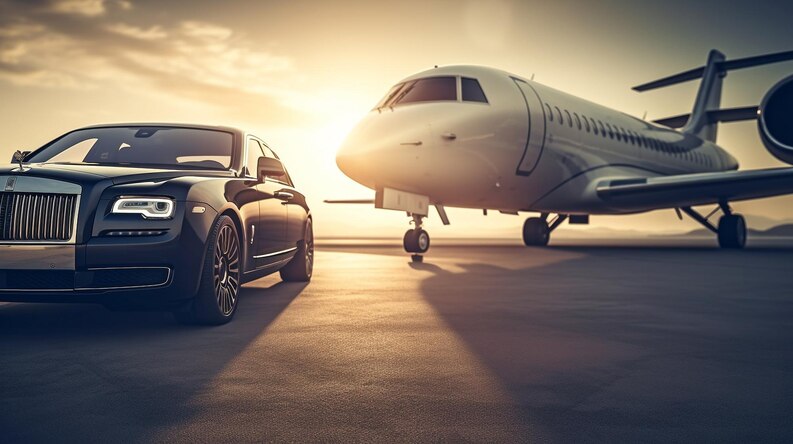 Hire Airport Chauffeur Service in London
Our team of highly skilled and experienced airport chauffeurs are not just drivers but experts in delivering a superior level of service. They possess in-depth knowledge of London's roads, ensuring efficient and punctual transportation to your destination. With their professionalism and discretion, your safety and privacy are always our top priority. Sit back, relax, and enjoy a smooth and comfortable ride while our chauffeurs take care of every detail. Hire our airport chauffeur service in London and leave the rest to us.
At Black Tie Chauffeur, we understand that every client is unique, and we strive to provide personalized service tailored to your specific needs. Whether you require airport transfer London Heathrow, airport transfer London Gatwick, airport transfer London Stansted or chauffeur for any other airports in London or a special occasion, we customize our service to meet your requirements. From route planning to accommodating special requests, our team is dedicated to creating a personalized and memorable experience.
Despite offering a luxury airport chauffeur service in London, we believe in making it affordable and accessible. Our competitive rates ensure that you can enjoy the opulence of a chauffeur-driven experience without compromising your budget. Experience the epitome of luxury, comfort, and convenience without worrying about the cost.
Elevate your travel experience in London with BTC's airport chauffeur service. Whether you're a business traveler, a tourist exploring the city, or attending a special event, our commitment to exceptional service and affordable luxury sets us apart. Book your airport transfers chauffeur today and enjoy a memorable journey that exceeds your expectations.
Here is a list of the airports we transfer from/to. Please note, for private jets, we will need a PPR code (Prior Permission Request) from the jet center in order to collect our clients from the runway along with the flight tail number.