Your wedding day is a celebration of love, elegance, and unforgettable moments. At Black Tie Chauffeur, we understand the significance of this occasion and offer you a distinguished wedding car hire service that perfectly complements the grandeur of your special day. Our commitment to excellence and attention to detail ensure that your wedding transportation is nothing short of extraordinary.
The Essence of Elegance – Our Wedding Car Fleet
Step into a world of opulence and sophistication with our exclusive fleet of wedding cars. Each vehicle is meticulously maintained and designed to exude luxury, making a statement as you arrive at your wedding venue. From classic vintage cars that evoke nostalgia to modern luxury cars that embody contemporary style, our collection caters to a variety of preferences.
A Memorable Arrival
Choosing the right wedding car hire is important! Your entrance sets the tone for your wedding day, and our wedding car hire service ensures a memorable arrival. Imagine stepping out of a stunning wedding car, adorned with ribbons and floral decorations that match your theme, capturing the attention of your guests and leaving a lasting impression. Our chauffeurs are not just drivers; they are your allies in creating magical moments.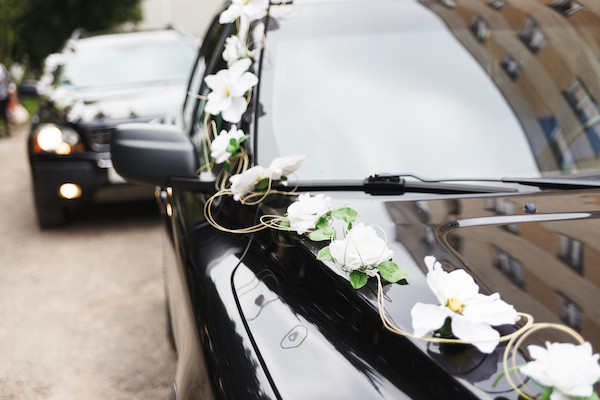 Tailored to Perfection
At Black Tie Chauffeur, we understand that every wedding is unique. That's why our wedding car hire service is tailored to meet your specific requirements. From coordinating with your wedding planner to ensuring the car complements your chosen color palette, we go above and beyond to make your transportation experience seamless and personalized.
Unmatched Professionalism
On your wedding day, you deserve nothing but the best. Our team of professional chauffeurs is committed to providing unparalleled service. With extensive knowledge of London's roads and traffic patterns, we ensure a smooth and punctual journey, allowing you to focus on enjoying every moment of your day.
Wedding Car Options
Choose from our exquisite range of wedding cars, each offering a distinct charm:
1. Classic Vintage Cars
Capture the romance of a bygone era with our classic vintage cars. These timeless beauties add a touch of nostalgia to your wedding day, creating picture-perfect memories.
2. Luxury Limousines
Experience the epitome of luxury in our sleek and spacious limousines. With ample space for you and your bridal party, you can relax and savour the anticipation of your big moment.
3. Modern Prestige Cars
Make a contemporary statement with our modern prestige cars. These high-end vehicles combine cutting-edge design with premium comfort, ensuring you arrive in style.
Booking Your Dream Wedding Car
Booking your dream wedding car with Black Tie Chauffeur is a seamless process designed to make your experience stress-free. Contact us through our website or give us a call, and our friendly team will assist you in choosing the perfect car for your wedding day.
Elevate your wedding day with Black Tie Chauffeur's wedding car hire in London. Contact us today to embark on a journey of elegance, luxury, and cherished memories.
Conclusion
Your wedding day deserves the finest details, and our wedding car hire service ensures that your transportation reflects the elegance and significance of the occasion. With our exceptional fleet of wedding cars, personalized service, and commitment to professionalism, we offer you a truly extraordinary experience. Choose Black Tie Chauffeur for your wedding car hire needs and transform your arrival into an unforgettable moment of beauty and grace.