Welcome to Black Tie Chauffeur, specializing in private airport transfers in London. We understand the importance of a smooth and stress-free journey, especially when it comes to airport transportation. With our exceptional fleet of luxury vehicles and professional chauffeurs, we provide an unparalleled experience that ensures you arrive at your destination in style and comfort. Whether you're travelling for business or pleasure, our private airport transfer service is your gateway to effortless travel. Simply book today our airport chauffeur service in London and leave the rest to us.
Luxury Private Airport Transfers
Experience the ease and convenience of our private airport transfers, catering to all major London airports including Heathrow, Gatwick, London City, Luton, and Stansted, as well as the bustling commercial and private jet centres. Our dedicated chauffeurs will greet you at the designated pick-up point, assist with your luggage, and ensure a seamless transition from the airport to your desired destination.
Luxury Fleet of Vehicles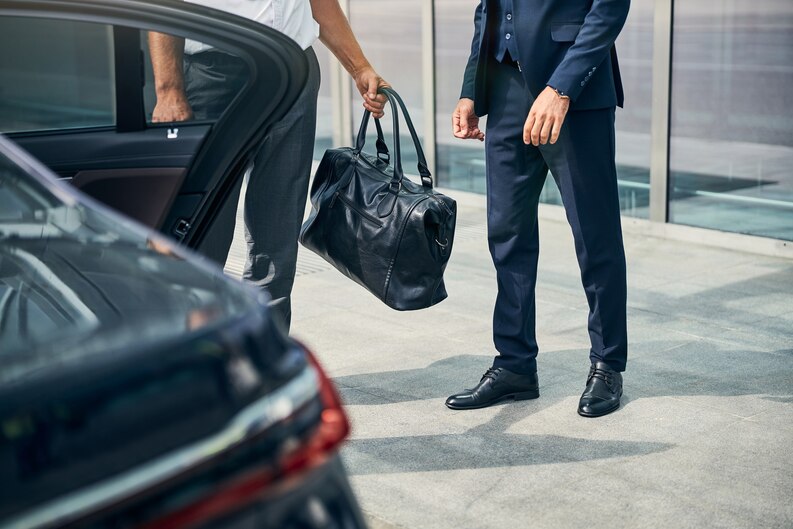 Our fleet of luxury vehicles is meticulously maintained and designed to meet the highest standards of comfort and elegance. From sleek sedans to spacious SUVs, we have the perfect vehicle to accommodate your travel needs. Relax in plush leather seats, enjoy advanced climate control, and take advantage of the latest in-car technologies to enhance your journey. We offer Mercedes S Class, V Class, E Class, Range Rover, Rolls Royce and more to cater to the varied needs of the customers.
Professional Chauffeurs
Our team of professional chauffeurs are experienced, well-trained, and dedicated to providing the highest level of service. They possess an in-depth knowledge of London's airports and road networks, ensuring optimal routes and timely arrivals. With their commitment to professionalism and attention to detail, you can trust that your airport transfer will be handled with the utmost care and precision.
Exemplary Meet and Greet Services
Experience the epitome of hospitality as our friendly and professional chauffeurs personally greet you upon your arrival at the airport. Look out for our chauffeurs holding a sign with your name, making it easy for you to spot them amidst the bustling terminal. Enjoy the convenience of being escorted to your waiting luxury vehicle with a warm welcome and a smile, ensuring a smooth transition from the airport to your destination.
Seamless Luggage Assistance
We understand that navigating through airports with heavy luggage can be overwhelming. Our dedicated chauffeurs provide seamless luggage assistance, taking care of your bags from the moment you arrive until they are safely stowed in the vehicle. Relax and let us handle the logistics, as our chauffeurs ensure your belongings are securely loaded and unloaded, giving you peace of mind throughout the journey.
Attention to Detail and Personalization
We pride ourselves on our meticulous attention to detail and personalized approach. Our chauffeurs take the time to understand your specific requirements and preferences, tailoring them to meet your needs. Whether it's providing local recommendations, adjusting the temperature in the vehicle to your liking, or offering any additional assistance, we are dedicated to making your airport transfer truly memorable.
Punctuality and Reliability
We understand the importance of punctuality, especially when it comes to airport transfers. Our chauffeurs meticulously plan each journey, accounting for traffic conditions and flight schedules, to ensure that you reach the airport or your destination on time. Rest assured that our reliable service will take the stress out of your travel plans, allowing you to focus on enjoying your trip.
Privacy and Discretion
We prioritize your privacy and understand the need for confidentiality during your airport transfer. Our professional chauffeurs respect your personal space, ensuring a discreet and comfortable environment throughout your journey. Conduct important calls, catch up on work, or simply relax in a private and secure setting.
Customized Service
We believe in tailoring our services to meet your specific requirements. Whether you're travelling solo, as a couple, or with a group, we have the flexibility to accommodate your needs. From arranging multiple pickups to accommodating special requests, our team is dedicated to providing a personalized experience that exceeds your expectations.
Book Your Effortless Airport Transfer
Make your travel experience seamless and stress-free by booking our private airport transfer service in London. Contact us today to reserve your luxury chauffeur driven cars in London and experience the ultimate in comfort, reliability, and style. Trust us to be your trusted partner in providing effortless airport transfers that set the stage for a remarkable journey.